Introvert's guide to Networking
Spoiler: Networking doesn't have to feel awkward.
Look, I get it: Having to network and be visible is the most dreaded career advice we can get as introverts. Everything about meaningless chit chat at the coffee machine and trying to find common ground with a stranger feels awkward, salesly and icky.
But here's the thing: Gone are the days of having to attend awkward networking events and leaving your business card with strangers for the sake of progressing your career.
There are so many new ways of how to approach networking and quite a few introvert-friendly ones among them. Curious? Well, keep reading.
Mindset for meaningful Networking
Before we dive into ways of building a meaningful network as an introvert, let's start here: Why do you even need a network?
It's quite simple: Because you're going places. And whether you like it or not, you're going to have to ask for directions.
If you're reading this article, chances are your career is not just a means to make money. You want to make an impact. You want to apply your creativity, your thinking and inherent capabilities to leave your part of the world a better place. You know you have a lot to give and say, and it would be a shame for you to keep it all to yourself.
That's why you need people. Your people. Your tribe of supporters, mentors, peers that help you get there and make the journey worthwhile. That's your network.
So stop thinking of your network as this scary group of strangers and start seeing it for what it should be: Your people.
Three success factors for introvert-friendly Networking
I hope you're starting to feel excited about networking, because now we're diving into how you go about finding the right people and approaching them in a way that doesn't feel salesy or icky.
To me, networking comes down to three key success factors:
1. Clarity – so you really understand what you need networking for
2. Intention – so you can identify who it is you need in your network
3. Preparation – so you can show up with confidence & make it worth their while
Let's tackle them one by one:
1. Clarity: Become clear about what you are networking for
Your Networking efforts are highly dependent on your personal why and direction. The reason why you won't ever succeed at "becoming more visible" is simple: It's not strong enough an ambition. As an introvert, you're going to have to connect to your why on a deeper level. Why is it important to be visible? What does being visible to the right people unlock for you? What does it help you achieve? How does your being visible positively affect other people?
Most of the introverts I work with simply don't care about "being visible" for vanity reasons. They don't see a point in networking to become more prominent in the organization. But once we uncover what truly sparks their joy and ambition, it feels a lot less awkward to build a network that supports this ambition. Why? Because it's not about them anymore. It has higher meaning. It serves a purpose that is worth it.
Tell me in the comments: What would make Networking worth it to you?
2. Intention: Be intentional about who you need in your network
Let's take this one a step further: Be restrictive about who you consider your network.
Truth be told: Depending on your introvert type and Human Design, you might not hold a lot of energy for social interaction and connection. And that's ok! It doesn't mean you can't build a great network. It just means you have to be selective in the relationships you do choose to build and nurture.
Start with the network you have and assess which of these contacts are already crucial in supporting your deeper why and ambition. Continue by identifying the gaps in your network and who could potentially fill them. Be mindful of how many new connects you have capacity and headspace for.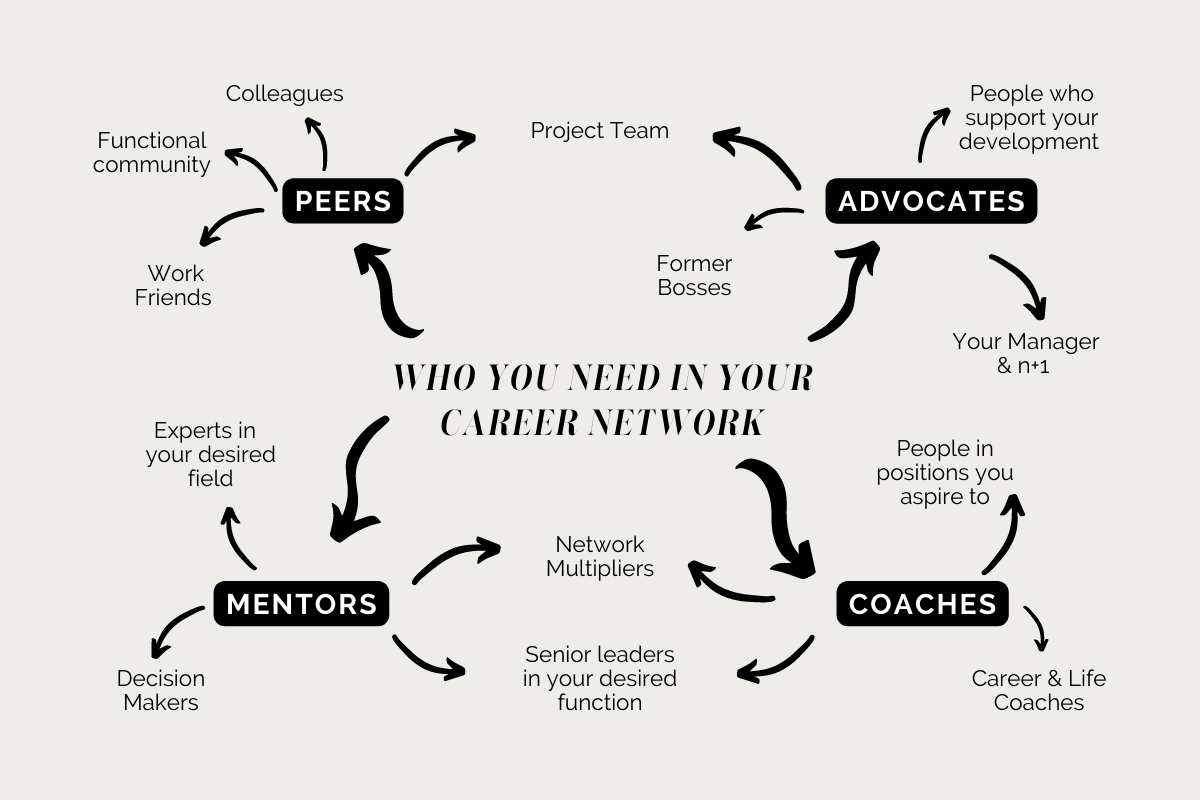 3. Preparation: Show up with confidence & make it worth their while
This is where I want you to over-prepare. There is no such thing as just "showing up with confidence and winging it" for an introvert. Now that we let this expectation go, let's look at how you can best prepare to feel strong, confident, and make the connect worth people's time.
Here are my top three tips to come prepared to a networking situation:
1. Own your area of expertise
A sure way of feeling strong and confident in networking situations (and at work meetings in general!) is to know what you know and what you don't know. Don't be afraid to take ownership of the topics you are an expert in. Absorb every piece of information you can get. That makes it so much easier to talk about it with confidence. Likewise: Don't hold yourself accountable to know everything. Remember: You can come across just as confidently by saying "I don't know the answer to that. Let me have a look into it."
2. Build common ground and know your audience
If you're anything like me, you'll have trouble easing into a conversation with small talk or establishing a connection from scratch. So, do your research. Get some context on your counterpart before you dive into the conversation. What part of the organization do they work in? What are some of the challenges they are currently facing? What are their interests? All this information allows you to tailor the conversation to your counterpart's needs and allows you to make it truly worth their while.
3. Structure to lead the conversation
There are a few things that help ensure a networking contact feels appreciated and is likely to say yes to spending time with you. Most of it comes down to managing their expectation beforehand, guiding through the conversation with the right questions and honoring their time by sticking to what was agreed.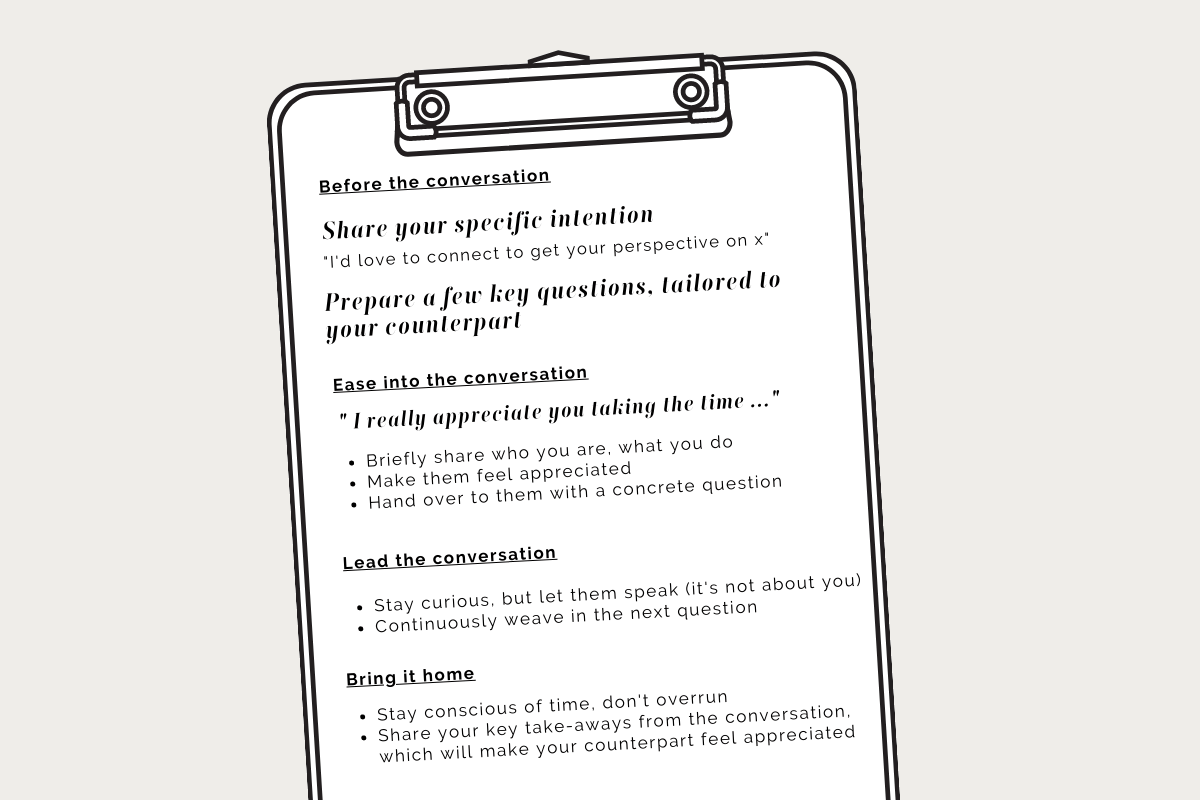 I hope this article provides you with all the fuel you need to change the game of networking for you and build your tribe of supporters, mentors, advocates & lifelong friends.
If you do wish to take it further, have a look at my 1:1 coaching programs: Show-up, Introvert and the Quiet Move Accelerator. Depending on your particular needs, they cover everything from understanding your deeper why and direction to showing up with confidence for meetings, interviews, and networking conversations.
No Results Found
The page you requested could not be found. Try refining your search, or use the navigation above to locate the post.
Hi there, I'm Hannah!
I'm an ambitious introvert, Brand Marketer and Career Coach who turned her quiet power into an introvert-friendly online business. I balance my busy work day with yoga, loads coffee and long dog walks. My mission is to help fellow introverts uncover their inherent power and claim the spots they deserve.